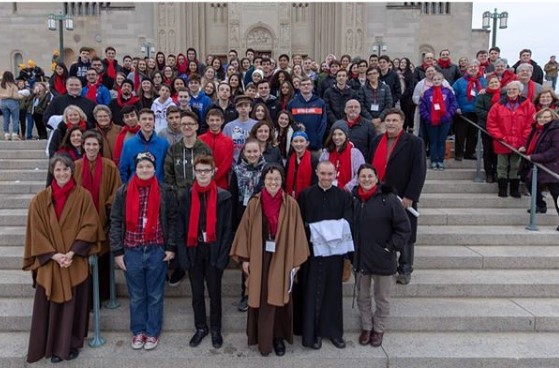 The Pro-Life Ministry of the Archdiocese of Hartford at the Franciscan Life Center says a big "Thank you" to the almost 200 pilgrims from the Archdiocese who traveled to the March for Life in Washington, D.C.
Five buses of enthusiastic, prayerful pilgrims left the Franciscan Life Center campus at 6:45 a.m. on Thursday, January 17 for Washington, D.C. and returned at 11:00 p.m. on Friday, January 18. Among the pilgrims were 135 students, 12 faculty and parents from Catholic schools throughout the Archdiocese. Youth who participated were from St. Paul Catholic High School in Bristol, East Catholic High School in Manchester, Sacred Heart High School in Waterbury, along with confirmation students from St. John Paul the Great Parish in Torrington.
The group from the Archdiocese of Hartford joined over half a million pro-life pilgrims to protest the 1973 Roe v. Wade law legalizing abortion. The trip included participation in the Vigil Mass for Life at the Basilica of the National Shrine of the Immaculate Conception along with 10,000 people from across the country. Archbishop Leonard P. Blair, Archbishop of Hartford, offered Mass for the pro-life pilgrims at the hotel and joined them for breakfast on the morning of the March.
Christina Bennett, Communications Director for The Family Institute of Connecticut, presented to the group at breakfast. She delivered a powerful testimony on how she became pro-life.
Thank you again for your participation in the pro-life movement and in all we do, let us continue to proclaim that human life is a precious gift from God!