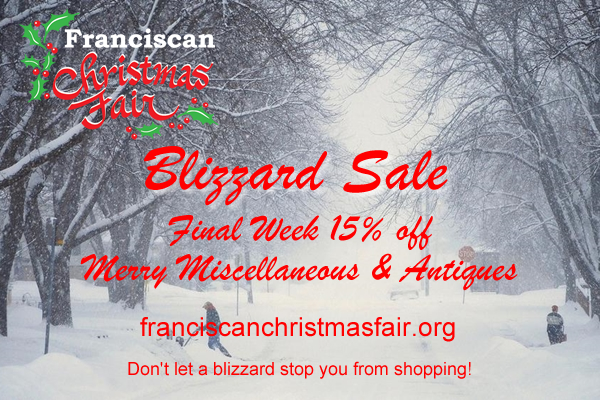 Only a few days left to shop at Franciscan Christmas Fair online store where you will find unique gifts and one-of-a-kind handmade items.
Franciscan pottery made by Sister Maria Sena, FSE and Brother Leo Maneri, FBE
Beautiful wreaths, kissing balls and swags decorated by the Sisters and their artistic helpers
Olive wood religious articles, ornaments and cashmere scarves from the Holy Land
Hand-painted watercolor greeting cards by Sister Mary Roberta Connors, FSE
Handmade rosaries by Sister Rosario Ongayo, FSE
Expertly woven table runners, knitted baby items, lap quilts and pillow covers
A wide variety of surprising items in Merry Miscellaneous – you really will be surprised at what you can find!
BLIZZARD SALE! 15% off of Antiques and Merry Miscellaneous for the final week, ends December 23.
FRANCISCAN SPECIAL: There is still time to order bread for your Christmas table!